Hands-on training
Our training centers in Bitterfeld and Dortmund offer in-depth and practical training programs for locomotive drivers in mainline and shunting service, brake testers and freight car inspectors. We not only train our own employees, but also welcome external participants. Learn together with us and bring your knowledge up to date.
Railway Training Center Dortmund
Our Railway Training Center in Dortmund offers customized training and continuing education programs for locomotive and shunting drivers. The centerpiece is the mobile CAPTRAIN SIMULATOR - a semitrailer with four simulator stations. In the simulator locomotive drivers train real situaxtions - using state-of-the-art technology. On request we can do this directly on your premises.
Captrain Simulator - Train safety training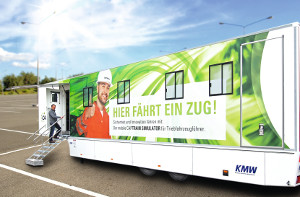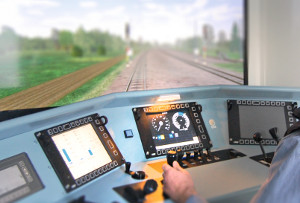 Rain, autumn leaves, snow, animals on the track - additionally the technical safety system at the level crossing is defective! Unprepared, the daily work of train drivers becomes a stressful situation. But this can now be easily practiced at the push of a button: in the mobile CAPTRAIN SIMULATOR.
It simulates the entire range of rail operations using state-of-the-art technology for Germany and for cross-border trips to the Netherlands. All this in the comfort of your own premises. Of course, our competent trainers are at your side and will work out your individual training or advanced training program together with you - in group or individual training sessions, depending on your needs.
The train in the semitrailer: The CAPTRAIN SIMULATOR is equipped with four simulators and one trainer seat. Thus, up to four participants can be trained at the same time; each at their own video-monitored "original driver's station" with a 55-inch monitor showing realistic track simulations.
LZB, ETCS/ERTMS, ATB
Signaling system Germany (HL, Ks, shape and main light signals) and Netherlands
Series training (189) and troubleshooting
Training for railroad workers in operational service (EiB)
Training for locomotive drivers
Shunting
Energy-saving driving
Driving with reduced friction coefficient ("autumn problem")
Practical training for managers to obtain the railroad driver's license
Re-enactment of unsettling practical situations
Monitoring journeys
Verification after special events in railroad operations
Operational competence assessment for train drivers
Operational competence assessment for entrance check during recruitment
Railcar Training Center Bitterfeld
The railcar training center in Bitterfeld is a specialist in training brake testers for wheel brakes and inspectors for freight cars of levels 1 to 4 according to VDV Schrift 758 (formerly wagon foremen and wagon inspectors). This naturally includes regular advanced training courses (RFU). Numerous additional courses offered by the technical wagon handling department complement the training program. The railcar training center works according to recognized standards, guarantees the highest quality according to ISO 9001 and is equipped with modern teaching media. We are also happy to offer our training and further education programs as in-house training courses. Please contact us for an individual offer.