Dortmunder Eisenbahn GmbH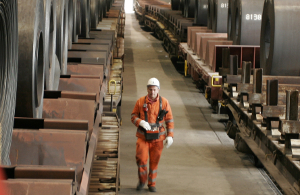 The planning and execution of rail-based plant logistics for the mining and steel industry has been an integral part of Dortmunder Eisenbahn GmbH's service portfolio since its foundation in 1899. For over 110 years the railway has been an integral part of the production processes of the iron and steel industry. The services of Dortmunder Eisenbahn do not stop at the factory gates but link the in-plant logistics of industries located between the Rhine and Ruhr with regional and long distance traffic through to cross-border rail-bound transport solutions.
The transport of raw materials and semi-finished products for the steel industry is the specialty of Dortmunder Eisenbahn within the Captrain Deutschland GmbH group. Based on its comprehensive regional expertise and highest quality standards, the mining and steel industry specialist also offers cross-industry logistics concepts.
At the locations in Dortmund and Bochum, Dortmunder Eisenbahn also operates two specialist workshops and thus guarantees the highest engineering quality. Both workshops have the necessary installations and special equipment needed to maintain rail vehicles and they work according to recognized procedures.
Besides Captrain Deutschland GmbH, Dortmunder Hafen AG is co-partner of Dortmunder Eisenbahn and closely integrates the company with the region. The traditional bonds between Dortmunder Eisenbahn and the Ruhr area are reflected in its social responsibility. For more than 60 years, young professionals receive excellent training in business management and engineering thus securing the company's future.
Through DE Infrastruktur GmbH Captrain Deutschland offers you infrastructural services of highest quality in the area between Rhine and Ruhr.