Specialist workshops: always well maintained, always safe
We deliver our services safely and accurately – with highly trained staff, state-of-the-art technology and a fleet of 273 locomotives and 2,710 freight cars.
First-class rail vehicle maintenance with as little downtime as possible is the only way to guarantee maximum safety and continuous use. This not only reduces your costs, but also ensures high availability.
To fulfil this mission, Captrain operates seven specialist workshops in Basdorf (Wandlitz), Bitterfeld, Bochum, Bremen, Dortmund and Pirna, which also provide their complete range of services to external railway companies.

Comprehensive service of the highest standard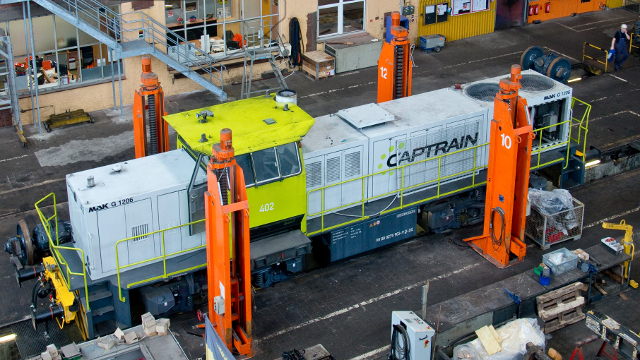 Our specialist workshops offer a comprehensive service of the highest technical standard and have the necessary equipment and specialist technology to maintain rail vehicles.

Our experts not only perform scheduled general inspections and revisions, but also repair any faults or damage and replace or upgrade components, such as motors, wheelsets, brake systems and gearboxes. The service portfolio of our specialist workshops also includes the modernisation and conversion of diesel and electric locomotives, motor coaches and freight cars.
Should it not be possible to deliver your rail vehicle to one of our workshops, we also have mobile deployment teams who will be happy to undertake repairs at your premises. It goes without saying that all our specialist workshops operate in accordance with recognised procedures.



Approvals and certifications
All procedures at the Captrain Deutschland specialist workshops are certified according to DIN EN ISO 9001:2015.
Our workshops have also been granted the following approvals:

Freight wagon maintenance certificate (ECM IV) in accordance with EU Directive 445/2011 of 10 May 2011 (ECM IV) and as an Entity in Charge of Maintenance – ECM
Specific manufacturers' approvals for the maintenance of locomotives, freight cars and motor coaches (Bombardier, Alstom, Siemens, Vossloh, etc.)
Approval by rental firms to carry out maintenance and repairs (MRCE, ATC, VTG, etc.)
Welding permit for rail vehicles in accordance with DIN EN 15085 certification level CL 1
VPI approval from VPI companies for the maintenance, revision and fixed-time maintenance of freight cars