Regiobahn Bitterfeld Berlin GmbH
Your specialist for industrial railway logistics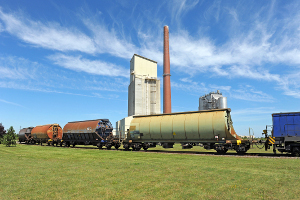 20 years of experience in industrial railway operation make Regiobahn Bitterfeld Berlin GmbH a local specialist for rail-based in-plant logistics. Regiobahn Bitterfeld Berlin offers the entire range of intra-plant rail-bound goods traffic – from handling, shunting through to loading and unloading. Based at ChemiePark Bitterfeld Wolfen the company also has extensive competences when it comes to chemical and hazardous goods transports and transport services for local and long-distance traffic.

Regiobahn Bitterfeld Berlin was founded in 1995 after the merger and restructuring of the former industrial railways of Filmfabrik Wolfen, the former Chemie AG Bitterfeld-Wolfen and Mitteldeutsche Bergbauindustrie. Since 1996 the RBB has been a wholly-owned subsidiary of Captrain Deutschland GmbH. RBB has 60 employees and operates a long-distance network of 3,500 km. It has another 38km of its own rail infrastructure, and its specialist workshop at Bitterfeld maintains and repairs the vehicles and provides a broad range of services to external railway companies. The main areas of specialisation are transports for the glass and biofuel industries.

At Bitterfeld the company also runs the rail car training centre of Captrain Deutschland GmbH. The training courses for wagon masters, wagon examiners and braking test specialists are also available to external participants.