ITL Eisenbahngesellschaft mbH
Your connection to Poland and the Czech Republic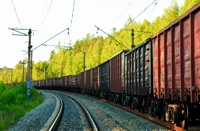 The ITL Eisenbahngesellschaft mbH (ITL) is part of the Captrain Deutschland Group and your partner in rail-bound logistics services along the East-West transport axis. With subsidiaries in Poland and the Czech Republic, ITL offers you railway knowhow wherever you are, and carries your freight safely across borders.

With its head office in Dresden, ITL has, since its foundation in 1998, developed from a regional service provider for construction site logistics to an internationally operating railway transport company.

By setting up a Czech subsidiary, ITL-Železnicní spolecnost Praha s.r.o. (ITL Praha) in 2001, ITL established a branch of its own in Prague. Together with its local partners, ITL has been organising transports from Hungary, Romania and Slovakia to Germany and the Netherlands.

Another important step into the international market was the foundation of the railway transport company ITL Polska Sp. z.o.o. (now Captrain Polska) in 2006, with its head office in Wroclaw. In 2008, ITL Polska obtained the safety certificate which opened doors for ITL to add rail freight transport in Poland to its service portfolio. ITL Polska also cooperates with railway companies in Belarus and the Ukraine, thus offering borderless railway logistics from and to Eastern Europe.

In addition to the comprehensive expertise in rail-bound transport services to Central and Eastern Europe, logistics of construction and raw materials in Eastern and Northern Germany in particular, are part of the strengths of the enterprise. Regional and supra-regional transport of ballast, grit, cement, coke, coal, chalk, corn and chemical freight is part of the extensive ITL service portfolio.

Maintenance and repair of the ITL fleet is overseen by the company-owned specialist workshop in Pirna, which also offers its services to external partners, manufacturers, lessors and railway companies.

In April 2008, SNCF Geodis became the majority shareholder with 75% of ITL shares and, acquired the remaining 25%, effective from 31 December 2010. Following on from this 100% takeover, 2011 saw the organisational integration of the company into Captrain Deutschland Group.