IGB Industriebahn-Gesellschaft Berlin mbH
Efficient logistics concepts for Berlin's Industry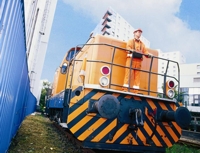 IGB Industriebahn-Gesellschaft Berlin mbH is your professional and experienced partner for rail-based goods traffic in Berlin and Brandenburg. Whether on its own or on public infrastructure: IGB develops efficient logistics concepts for rail transport and ensures your goods are taken safely to their destinations.

The trackage of IGB at the inner-city locations of Ruhleben and Neukölln is 21 km. About 1 million tons of goods are transported on these tracks by IGB every year. At the connecting railroads of Berlin-Neukölln and Berlin-Ruhleben customers such as the coffee roasters Kraft-Jacobs (Kraft Foods Deutschland) and the Tanquid tank farm are serviced. The tank farms of the Berlin-Schönefeld Airport and Berlin-Marienfelde are also major customers.

IGB Industriebahn-Gesellschaft Berlin mbH was founded in 1989 by the government of Berlin as a non-public railway company. To this end the connecting railroads previously under the control of the Berlin government were pooled under the roof of the IGB. Today Captrain Deutschland GmbH is the majority shareholder whereas the other shares are held by BEHALA – Berliner Hafen- und Lagerhaus-Gesellschaft mbH. The IGB itself has a majority interest in Niederbarnimer Eisenbahn AG. The latter operates the traditional railway infrastructure of "Heidekrautbahn" in the north east of Berlin and its subsidiaries, NEB Betriebsgesellschaft mbH (100 %) and Schöneicher-Rüdersdorfer Strassenbahn GmbH (70 %) are successful short-distance public transport companies.