Captrain Deutschland CargoWest GmbH
A astrong partner for heavy loads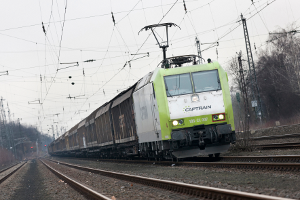 Captrain Deutschland CargoWest GmbH was established in 2015 as the result of the merger between the Captrain Deutschland companies, Bayerische CargoBahn GmbH and TWE Bahnbetriebs GmbH. With offices in Gütersloh and Ulm, it not only transports freight for regionally based firms, but has also established itself as a full-service provider of cross-border rail logistics solutions within the Captrain Deutschland network.

Captrain Deutschland CargoWest's custom-made concepts go far beyond the safe and reliable traction in short-distance and long-distance traffic. Thanks to its on-site logistics expertise, it shunts at your premises, loads and unloads and also manages in-plant and connecting railways, if required. As a specialist for cross-border transport services to Austria, France, Italy, Scandinavia and the Netherlands, Captrain Deutschland CargoWest will also deliver your goods securely and reliably to their international destination.

It collaborates closely with the European affiliates of Captrain Deutschland and also has access to a network of international partners. So the company also has direct access to the appropriate resources outside of Germany, and guarantees the necessary market knowledge.

Captrain Deutschland CargoWest's service portfolio also includes train maintenance and repair. The company's specialist workshop at its Lengerich site has the necessary equipment and special technology to maintain rolling stock, and operates in accordance with recognised procedures, thereby ensuring the highest technical quality.