Train services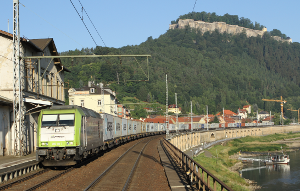 Captrain Deutschland gets your goods to their destination quickly, safely and reliably – both regionally and internationally. We will transport your goods according to your needs, using our modern, multi-system locomotives that can be deployed internationally, provide the necessary personnel and manage the entire transport process. We therefore open up boundless opportunities. Our operational offices in Germany, Denmark, the Netherlands and Poland, licences in Austria, Switzerland and the Czech Republic and our affiliates in Belgium, France, Italy and Spain provide cross-border, pan-European rail freight services.
International train services along the east-west transport axis
Within the Captrain Deutschland Group, ITL Eisenbahngesellschaft mbH (ITL) specialises in long-distance services along the east-west transport axis between the Czech Republic/Poland, the sea ports and the Ruhr area. One of its main priorities is the route between the border station of Děčín and the port of Hamburg, where the international train operating company primarily transports containers, cereals and mineral oil on block trains, completing around 50 trips per week. Thanks to this high frequency, good resource availability at departure and arrival points and trained, bilingual staff, ITL offers its customers a highly flexible cross-border service.