INTEGRATED LOGISTICS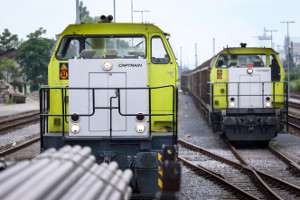 Local infrastructure management, wagon supply, shunting operations, train and support services: as a full-service provider, Captrain Deutschland develops logistics solutions tailored to your individual needs from a single source. We therefore combine industrial logistics with regional and long-distance services, to create cross-border rail transport systems – locally, regionally and across Europe.

Integrated Logistics for Salzgitter Mannesmann Precision GmbH
Captrain Deutschland has a long-standing customer relationship with Salzgitter Mannesmann Precision. Since 2004, we have been transporting round billets and, since 2010, hollows for the company. In 2014, Captrain Deutschland transported 220,000 tonnes of round billets between Duisburg and Zeithain and 150,000 tonnes of hollows from Zeithain and Muelheim an der Ruhr to Riesa, Brackwede, Holzhausen and Vitry le François (France). Captrain Deutschland has also been operating the industrial railway in Zeithain since 2005. Important building blocks for customer satisfaction include a tailor-made wagon solution and an operating concept that combines high reliability with maximum flexibility. By optimising capacity utilisation, we can guarantee safe supply to – and offtake from – each location.