Hörseltalbahn GmbH
The Automotive Specialist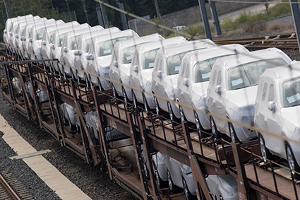 At Opel in Eisenach cars "made in Germany" leave the assembly line in well-tuned steps to set forth on a journey to the world. Since its foundation in 1992 in parallel with the construction of the Opel works in Eisenach, Hörseltalbahn GmbH has been the partner for rail-bound works logistics at the site. It provides for a reliable and flexible "just in time" delivery of material from the track to the production line. New cars and semi-finished products are put on trains by HTB and then head to destinations across Europe.

The renowned automotive specialist of Captrain Deutschland GmbH develops tailored solutions for the rail-bound works logistics in cooperation with its customers. The primary goal is to ensure the reliability, punctuality and flexibility of the customers' logistic processes both in short-distance and long-distance traffic.

In Eisenach, Hörseltalbahn has over 10 km of its own tracks and runs a combined rail/road terminal that is equipped with mobile loading and unloading systems. With a public loading track and efficient equipment, up to 120 containers and swap containers of 20 to 45 feet and a total weight up to 40 tons can be handled daily.